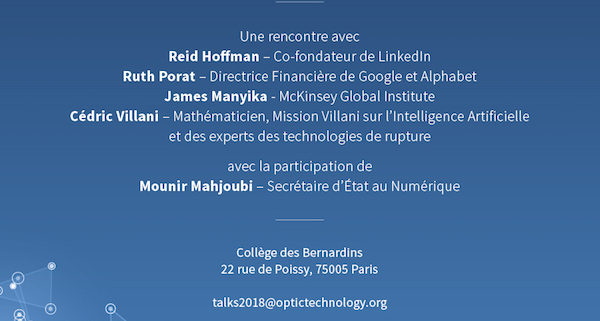 A new generation of digital technologies is pervading every aspect of our daily lives: artificial intelligence is transforming the way we work; Big Data processing is changing health, justice and public safety; Blockchain can secure transactions without intermediaries. These technologies not only transform the way we do things, but also the very nature of our activities.
How can we ensure that they are implemented for the common good? What kind of society do we build with such tools? What revolutions are coming?
The OPTIC research network runs task forces in Berkeley, Stanford, Boston, Geneva and Paris: experts study the impact of these technologies on human activities and on our societies. This dialogue between specialists, researchers in humanities and key actors of the civil society allows for new perspectives.
On the occasion of the publication of its recent research work in France (see the topics of the white papers below), OPTIC is organizing at the Collège des Bernardins a conference of presentations and debates:
An introduction by Mr Mounir Mahjoubi,
a series of keynotes (see details below) by experts and personalities on the themes of trust, empathy, responsibility, and the ethical by design approach in innovation, in the perspective of the revolutions brought about by these disruptive technologies,
and a conversation between Ruth Porat and Reid Hoffman, moderated by Maurice Lévy.
It will be the first of a series of annual events to be held in Paris on the eve of the Davos World Economic Forum. 
In a dynamic and interactive way, this event will give voice to key players and the most enlightened observers.
The OPTIC network will thus provide a space for information and dialogue in order to identify each year the major technological developments and capture the weak signals of these societal changes.
At the Collège des Bernardins 
January 22nd, 2018, 5 pm – 7:30 pm
22 rue de Poissy, Paris 75005
By invitation only.
More information to come soon.
Contact : talks2018@optictechnology.org
https://lillethics.com/wp-content/uploads/2018/01/SAVE_THE_DATE_OPTIC_V6-01_600w.jpg
920
600
Geraldine Polus
https://lillethics.com/wp-content/uploads/2017/05/1_ETHICS_FR-300x120.jpg
Geraldine Polus
2018-01-10 09:43:31
2018-01-10 09:43:31
Technological Revolution : towards what society ?